Dan and I attended the first FITFEST SOUTH festival of this year and decided HardFitness needed to be a part of the action at the second one! We were thrilled to get a stall and also the opportunity to perform out first live on stage workout!! EEEEKK #EXCITED
Have you ever wondered what it takes to host a stall at a fitness festival?
………..me neither.
But with a hop, skip and quick insurance renewal there I was, Saturday evening after 8 hours of travelling back from holiday staring at this pile of equipment we needed to pack for FITFEST the following day. Before I left I gave Dan a specific list of stuff to leave out so that I could quickly grab it on my way home thus saving us time in the morning. Classic Dan went above and beyond but this time it wasn't funny, I could have just said "Don't pack the boxing ring". This 'pile' was intimidating and high enough that birds were circling it!
I slowly flip flopped my way to the door like some reject from a zombie film loaded up like a mule, clip board in teeth, tyre round waist, massive chain around shoulders, boxing gloves tied to that, boxing bag on the left shoulder, medicine ball to the right, dragging something with one leg and rolling a dumbbell with the other, not a great time to forget the van keys.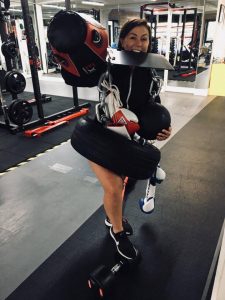 After what I could only describe as the most epic farmers walk ever, something the Guinness Book of Records would be proud to print, it was time to sleep. But you DON'T! When you are attending something like this, you go to bed relieved that everything is sorted but your brain reminds you of that thing that you definitely packed but maybe didn't? So you go and check its packed and repeat that for several hours.
After a solid 40 minute sleep you chug a 'Stroffee' (aka 3 scoops, not for the weak), grab the T shirt that hasn't dried in time and position your make up so it looks like your smiling- and that's just Dan!
7:45 am: Meet Dan, see what Dan is wearing, realise you didn't discuss a dress code, nervously laugh together and arrive at the venue. It's windy at FITFEST and there are tents flying everywhere and a spray in the air that all women can appreciate is the last thing your blow dry needs!
Next is the set up and due to space needed, all gyms and or personal training companies were given plots huddled together. Like animals outside of their natural habitat we were all scratching our heads, bits of gazebo in hand looking at one another and probably wondering what their dead lift pb was? After a  few burpees our gazebo was up, pop up banner, a flag, all the equipment was out and we were drowning in business cards but it looked the nuts (and we beat the other gyms too)>
Credit to Dan, we had a meeting before I went on holiday, a few texts here and there with ideas but ultimately he came up with all the content and set the workouts up. We had a chalk board displaying the next session time and eagerly waited for what I think we both imagined would be crowds of people wanting to take part and i'd be beating them off with an O bar. That didn't happen! the other stalls filled up quickly? Did I have something in my teeth?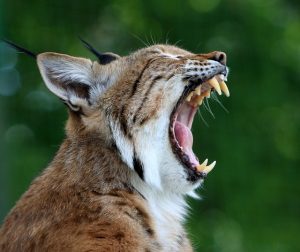 Was Dan's fluffy hair now intimidatingly voluminous? Not yet! Turns out they just weren't the right people, I always have to remind myself that just because I love our product doesn't mean that everyone else wants what we are selling (yet). A couple of casual glances and I was fed up of waiting – we started putting on a show, some pad work, flipped the tyre a couple of times and soon those glances turned into introductions and we were on it!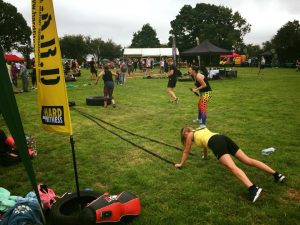 The first session went down a treat, we filled up quickly and had to start capping numbers. We aren't group fitness instructors, we are personal trainers – we deliver personalised training to willing (but mostly unwilling) individuals; we correct form, create relationships, your goals become our goals and we just can't do that in big groups. turning people away meant that they were now sitting around our stall waiting for the next session, before we knew it we couldn't deliver sessions quick enough. Between sessions Dan and I would have a quick sip of coffee and share a nod of "We've got this!" before getting back to it.
Then the countdown was on and the FITFEST Live Stage Workout was looming! Suddenly I was second guessing our decision to take our #FitFriday session offline and put it in front of people instead?……..actual real life people. GULP! No time to worry though, we put our mics on, had a little girl band moment and got up there. We wanted to post Live to Facebook but due to sound issues we sacked that off pretty early on and just started yelling motivational slurs to a few faces in the crowd, more bodies appeared and off we went. We drafted up a 'partners' themed workout, bring a buddy and workout with a friend – a few different exercises that you had to use someone to be able to complete it. Everyone was laughing at themselves, their partner but mostly us. We were on and off the stage making sure their reps were good quality and then our slot was over. Such a rush.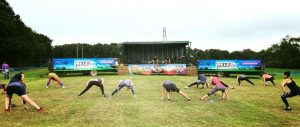 The fun didn't stop there, we had more sessions on the stall and even a burpee challenge customers could take part in, it was so good I spotted one of them sobbing tears of joy! Sweet.
Soon it was time to call it a day, the place was getting quiet and we were exhausted after a caffeine rollercoaster of a day. Time to pack up….bugger. The van was in the car park about 200m of uneven ground away and we weren't allowed to bring it on the field so the epic farmers walk got longer and silent as we just cracked on. Just as I loaded the last 25kg dumbbell into the van with my ear lobe there was an announcement to say all vehicles can now come on to the field. Not. Even. Funny.
Despite what goes on behind the scenes, it was a great day at FITFEST South we met some awesome people and look forward to doing more events in the future. A little take away note, when a Personal trainer looks happy that the workout is challenging you…just let them have it, to them it means they've done a good job, you have no idea how much; time, pain, grip strength and coffee has gone in to making a successful workout and your results make it all worth it.
Louise x