Why do you need to set a goal?
As the performance evaluation coach at Dynamo Training I measure client's performance to monitor progression or in some cases deterioration. Deterioration doesn't often happen……….if you have a goal!
I believe it is important to set goals. It doesn't matter what the goal is or how long it is going to take, as long as you have something that you can work towards. Without a goal what is it you are trying to achieve?
GOAL = We generally get what we focus on
A goal gives you something to drive for and focus on. Without a goal you will often find that unintentionally your fitness will start to deteriorate (remember maintenance is also a goal). You start to become complacent…..and then the excuses begin, "It's a friends Birthday", "It's only a couple of drinks", "I'm too tired today" or even "I just don't feel like it"

Set a GOAL
Having a goal makes you more likely to stay on track, you can still socialise, however your mindset is different and you consider the healthier eating options and having that one drink less. It really does make all the difference. You are also more likely to put less effort into your training without a goal, because you have nothing specific to focus on.
I started 2018 without a goal!
Last year I completed my first half marathon and although this was completion of my goal, I was left feeling slightly disappointed with my performance on the day. I decided that my goal for this year was to do another half marathon, but better my performance, however I found myself procrastinating and at the start of February had not yet registered for one. I realised that had to change, to motivate me and give me a date to aim for. I then booked onto the Hastings Half Marathon . Now that I have my goal I am more determined to train harder and eat better to achieve the best time possible.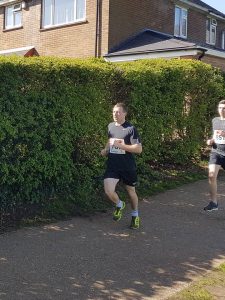 Remember there are many types of goals:
-Weight Loss
-Muscle Build
-Obstacle Race
-Mud Run
-Duathlon/Triathlon
-5 km, 10 km, Half Marathons
These are just a few gym based goals you can have.
When setting your goals they need to excite you and be something that matters to you. They need to be well balanced and realistic. People who set unrealistic goals generally fail to achieve them. Setting smaller targets in achieving your goals makes you more likely to succeed. A good example of this is a client trying to lose weight, although their overall target may be in excess of 3 stone, we have focused on a smaller more manageable targets E.G 2 pounds or half a % body fat loss each week. They have an overall target they want to get to but they are mainly focusing on each week and making sure they eat well during the week and getting in the gym as much as possible.
Remember….. the people that succeed are the ones with the goals and you generally achieve things that you have a specific focus on. Achieving what you set out to do makes you feel good. Now go and set a goal….and make sure you tell us what it is, we will help you achieve it!!
Lee West – Performance Evaluation Coach at Dynamo Training
If you are failing to get motivated/set goals with your fitness or Nutrition then please get in touch.